Internships (IN)
As part of the Erasmus+ programme, the Université Saint-Louis - Bruxelles welcomes students willing to complete an internship within one of the following services:

Communication Service

Registration Service

Student and Social Affairs Service

International Relations Service

Research Department of the Rectory

Libraries
While internships are always organised in the framework of the Erasmus + programme, they can still be arranged for students from universities that are not necessarily partners, by concluding a specific agreement between the two institutions. In addition, the internship will be regulated by a training agreement, concluded between the student, the home institution and Saint-Louis.
The internship may vary from two (9 full weeks without interruption) to nine months. The student can apply for housing, like any other exchange student at Saint-Louis University, to be housed in one of our residence halls. However, given the large number of requests, the granting of housing is not guaranteed. A fee of 60.00 euros per month will be awarded as housing assistance.
Apply now
Eligibility criteria

Be regularly enrolled in a European university

Language requirements: having a B2 level in French is strongly recommended. Other specific language skills may be required depending on the type of work to be done.

All persons participating in the Erasmus program + must be insured against the risks associated with their participation in these activities. You will find all the necessary information on this page.
To apply, please send a detailed CV, a photo and a cover letter to the responsible person for the internship.
Current opportunities

An internship in the service for Social and Students Affairs
Testimony
"I went into this traineeship expecting to learn, develop my knowledge, be tested, and come out the other side with more skills, motivation, and certainty that this would be my career choice for the foreseeable future. It was all of this, ...suite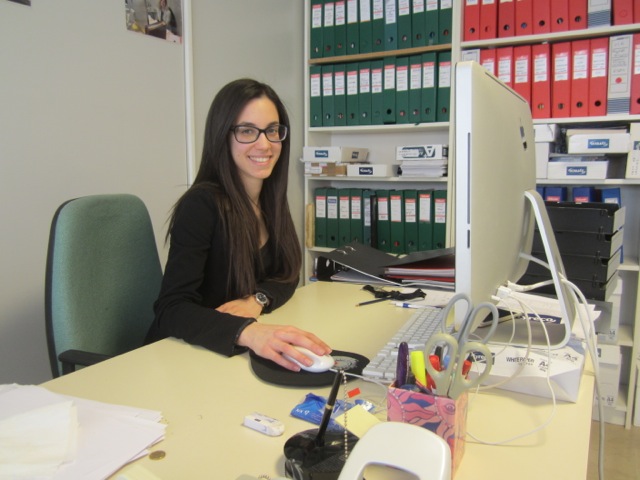 Valentina Nardinocchi, graduated in Translation and Interpreting from the University of Macerata, talks about her internship : « I am Nardinocchi Valentina and I come from the University of Macerata (Italy) where I studied in the faculty of translation and interpreting. I graduated in November and, since I love travelling and practising languages, I decided to do this internship in the International Relations Office in the Université Saint-Louis.
I could have done this as a means to earn credits in my home university but, since this wasn't my objective, I decided to do this internship after my degree in order to put effort into and to totally benefit from this.
The thing which stimulated me to do this was first of all the opportunity to speak two of the three languages that I studied, French and English.
In general, this was my first work experience in my field of study and, being at the end of the internship, I can say that I really liked my role. Having responsabilities and tasks in a university completely immersed me in the adult and working life. Furthermore, working in touch with Erasmus students is really stimulating and I can state that my organisational and relational skills truly improved.
At the beginning I was a little bit afraid not to be up to my role but at the same time this helped me to be the best I could be.
At the university I dealt with the new Erasmus students welcome and with the communication with these students personally or by email when there were information to give or doubts to solve. In addition I also dealt with the administrative part of these students' Erasmus and I had the opportunity to get in touch with partner universities of Saint-Louis.
In the end, I can say without a doubt that I would have lengthen this internship and that experiences like that make the transition study-work less difficult ».
Martina Lukavoca, student in Romance Languages at the University of Vienna, did an internship within the International Relations Office. According to her, « Erasmus internships are too unknown. Contrary to the traditional Erasmus exchanges during which students spend a semester to study in another university, the internship involves working within the partner university. Doing an internship was not mandatory in my cursus but I wanted to include these three-months internship in my programme, postponing therefore the end of my studies for one term because it is not easy to work and study all my courses by distance learning at the same time. At Saint-Louis, I am specifically in charge of welcoming students from other universities, coming in Belgium to spend one semester. My work is a well-balanced cocktail of administrative and interpersonal matters, which I do appreciate very much. Moreover, in Brussels, people are more welcoming than anywhere else, probably because of the multicultural dimension of the city and the presence of many foreigners who live and work here ».